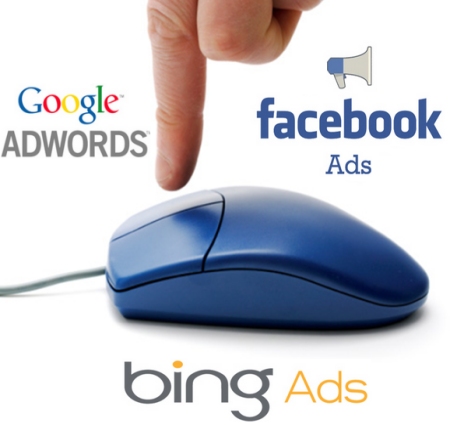 Online advertising aka Cost Per Click (CPC) or Pay Per Click (PPC) advertising, is when you pay your way to the top of relevant search results and webpages. Ads can be in text, images and even video.
Advantages
Online advertising offers many advantages over traditional print advertising.
Relevant – You can better target and segment your audience to deliver more relevant ads without wasting your ad budget on people uninterested in your business.
Faster – You can have immediate results but honestly you should spend some time for research and properly creating your campaign. Even still this is one of the fastest ways of growing your business.
Control – Paid advertising gives you full control. We can control the costs, ad text & images, ad placement, and even the time of day and zip codes it will appear.
Tracking – No more guessing! We can track how every cent is spent. This allows us to identify what performs best and should be expanded, and what is underperforming and needs adjustments. Clicks, calls and conversions can all be tracked.
Google Adwords Certified Partner
Wow, sounds impressive but it isn't. Anyone who spends a several days studying Adwords can pass this test and we have over 10 years experience profitably managing Adwords campaigns – now that is what we consider impressive.
What is the PPC Process
Phase 1
Research – We review your internal data sources, add some external data and combine it with our experience to identify the best audiences for your company and how to reach them. Should we target desktop users searching certain keywords on Google during business hours or should we target specific demographic market on Facebook during the weekends? Our research process will show us the path.
Phase 2
Bidding – Once we identify the best audiences to target and in what order they should be targeted, we can then work crafting the best bidding strategy for your goals. We know how to determine the right bids to maximize new business while protecting your profit margins.
Phase 3
Targeting – Our team knows all the tricks of targeting the best audiences. We can gracefully weave through a marketing minefield of profitable and unprofitable keywords. We know how to craft the ad campaign settings to deliver the right customers to your doorstep and avoid paying for wasted clicks.
Phase 4
Adjustment – Nothing stays the same in life. Our PPC monitoring tools vigilantly seek out new opportunities for you and ensure the existing campaign delivers top results. When consumers change their online behavior and search terms, we respond to keep your campaign on target.