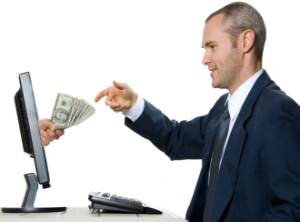 In case you are not a veteran of search engine optimization you may not know that your website's link popularity is critical to high rankings on search engines.  The quantity AND quality of the links pointing to your website will help to determine if your website is #1 or #100.  Since link popularity correlates so closely to your search engine rankings it makes sense that people will do anything to boost their link popularity.  This led to people paying for links which then led to Google to penalizing paid links in order to prevent people from buying their way to #1.
Despite Google saying all paid links are bad there are several allowable paid links…
Yahoo Directory
Any directory that is #1 run by human editors, #2 you have a good chance of not being approved #3 has a relevant category, and #4 is a well established site is a good directory to pay for a submission. Technically you are paying and may get a link in return but Google does not consider this a bad paid link (according to Matt Cutts, Google Engineer).  That is because these links  rely on editorial review to ensure only quality relevant sites are listed.  99% of directories do not fall into this category and should be avoided.  For the 1% of directories you should pay to submit your site.  You'll even get some small direct traffic.  It won't be alot of direct traffic but it will probably still be cheaper than PPC traffic.
Give Away a Prize
Connect with your niche industry and give away a really cool prize for a good reason.  Linking to your website is not a good reason, that is simply bribery.  You are trying to generate a buzz that will then entice webmasters to write about your prize or contest on their site and thus gain you an editorial link.  For an example if you are a local florist you could run a Mother's Day essay contest about why their mom deserves free flowers .  You will gain many interesting essays that you can post on your site (good content) and interest from your local newspaper and bloggers which will probably link to you.  All that this contest would have cost is a little time to manage the contest and a floral arrangement.
Provide Free Content
Webmasters are always looking to add relevant, quality content to their website to improve the user experience.  If you have good information that you can share then consider helping them and helping yourself.  How are you helping yourself?  By including a byline in the free article you generate a link back to your website.  If you create a poor article no one will read it and the webmaster will no longer host it on their site.  You need to make a really good article besides you want to take pride in your online reputation.  If you are a gun store think about writing articles about how to properly clean guns and offer them to hunting websites.  That way your informative article gets in front of a related audience that has a good chance of sending you some direct traffic.  You may think this is a free link but remember it is not cheap to generate high quality content.  This is definitely a link you are paying for.
Send Bloggers Free Samples
This might be considered bribery but even Google does it.  Make sure your intent is not to bribe but instead to better connect with relevant industry players.  Bribery will result in negative press (which will still generate links so its not all bad).  I am not advocating you mass mail free stuff to every blogger on the planet.  I am talking about picking the people that are informed and vocal in your industry.  By providing them free samples of your latest products you open a great channel to receive feedback.  If your new product is good then the blogger/developer/newspaper writer/forum moderator will be happy to report on your product.  It is smart business to better connect with people in your niche industry.  This is not cheap (just ask Google) but if you pick the right audience you should see a positive return on your investment.
Killer Blog Content
If you generate amazing content you will be rewarded by people referring to and linking to your website.  Years ago Bruce Clay created the search engine relationship chart that internet marketers religiously downloaded whenever it was updated.  More recent examples of great content can be found on Digg, Sphinn and other social sites.  Not every bit of content you produce will be rewarded with industry buzz and backlinks.  If you consistently produce above average and interesting content you will see people refer to you when they write or add you to their blogroll.  Be careful to not publish over the top tabloid stories.   You may be rewarded with many short term links <cough>13 yr old hires hooker</cough> but will probably upset alot of people in the long term.  Play it safe and avoid the Jerry Springer stories and focus on develop a real following of readers.  If your content is good enough to generate a following of readers it will definitely be good enough to gain links.
Quality Press Releases
Did you know that newspaper writers are constantly under pressure to produce interesting articles.  They are always seeking ideas and yes they do look at press releases.  Sometimes they even republish press releases with only minor changes.  Before you think that any press release will be successful you should take a reality check.  You need to have something important to say in press release for it to get any love.  If you do have an interesting story or ground breaking invention then definitely shout it from the roof top and use press releases to help spread the word.  A well written press release can help expose your company and gain interviews, contacts for future news articles and if you are really lucky getting your story syndicated in the national Associated Press feed.  You are more likely to be hit by lightning then get your story republished by the AP.  However a really interesting press release can generate alot of publicity that will bring in links and direct traffic.
Hire a Link Staff
In case you forgot what I mentioned in the first paragraph of this post let me remind you that good links=higher rankings.  You should be taking links very seriously and develop your own link development staff.  A good link developer can pick out the quality links from the garbage links you should avoid.  Once they identify good quality link partners they can then contact them and facilitate a link to your site.  It is not easy but it is important if you want your website to rank well.  A good link developer is worth their weight in gold.  If for nothing else an educated link developer will help you to avoid the many minefields there are, ranging from the obvious mistake of paying cash for a text link ad on a banned porn site to the less obvious mistake of having a glitch in a robots.txt file.
I didn't bore you to death yet?  Lets wrap it up
Paying for link popularity has been happening since the first days of the internet.  You pay for your domain name and without a domain name someone can't link to you.  What has changed is the amount and method people are paying for links.  As these examples show many of the more acceptable ways to generate links also generate direct traffic to your site.  That is not a coincidence.  The search engines work everyday to increase their sophistication to maximize relevancy in the search results.  They try very hard to distinguish editorially reviewed links from plain old advertising.  Think about how you can have people give you editorially reviewed links on quality websites and you will finding ways to improve your long term link popularity.
For most people they will get the best bang for the buck if they develop a strong relevant website and market it accordingly.  If you want to venture on the more riskier side, you can still be profitable (even obscenely profitable) but I suggest you use a domain that won't make you cry if it is banned from the search engines and that you research the risks you are undertaking.